GIFT BOX FLY SETS
Sets of flies to tempt fish on a wide range of waters. Packed in card boxes and a painted label these make ideal gifts.
If you want a set made to suit a specific water, just ask. The box painting can be match any water.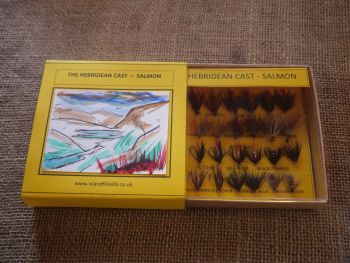 THE HEBRIDEAN CAST - SALMON
Traditional flies to make two fly - Point & Bob - teams to fish on loch and river. Tied on Kamasan B175 hooks.
Patterns including: Kill Devil, Blue Zulu, Muddlers, Butcher, Black Pennell, Wee Peter Silver March Brown, Donegal Blue, GB Hares Ear, Zulu
24 flies for £16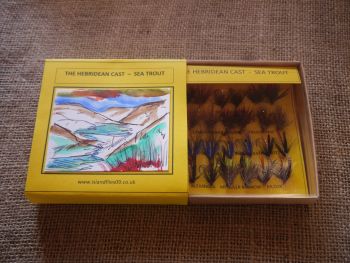 THE HEBRIDEAN CAST - SEA TROUT
Large wetflies will tempt Sea Trout on the Loch or river. Also useful point flies with smaller wets on droppers.
Patterns include: Alexandra, Muddlers, Grandpa Cox's Minnow fly, Silver Stoats Tail, Teal,Blue & Silver, Butcher, Blue Zulu, Donegal Blue, Black Pennell.
24 flies for £16
THE HEBRIDEAN CAST - TROUT
Traditional wetflies to make point and bob casts. Essential on any Loch or River in the Highlands and Islands.
Patterns included: Wee Peter, Murrays Bluebottle, Black Pennell, Flamethrower, March Brown, Night Watchman,Claret Bumble, Kill Devil, Zulu, Hawthorn Fly, Heather Fly, Donegal Blue.
28 flies for £16
Salmon & Sea Trout Selection -
22 Single hook flies to tempt fish on loch or river - £16
Patterns included: Zero Elvers, Whitebait, Zero Muddlers, Stoats Tail, Peter Ross Black Pennell etc.,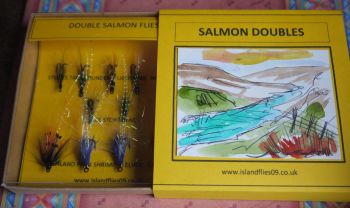 Double Salmon Selection - Traditional and Modern Patterns #10/12
Patterns included: StoatsTail, New Elver Fly, Cascade, Highland Park Shrimp, Wee Stoats Tail, Hairy Mary, Thunder & Lightning

10 flies for £16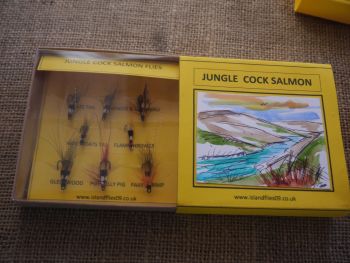 Jungle Cock Double Salmon Fly Selection #10 - Flies to please the flyfisher and fish!
Patterns included: Stoats Tail, Gledswood, Park Shrimp, Pot Belly Pig, Thunder & Lightning

8 Flies for £16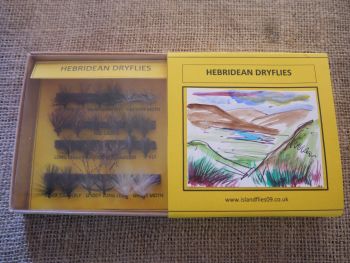 HEBRIDEAN DRYFLIES #12/14
Key patterns to tempt wild brown trout feeding on surface flies.
Patterns included: Black Stone Fly, Daddy Long Legs, Ghost Moth,Long Legged Black Gnat, Straggler, 'F' Fly CDC Caddis, Heather Moth, Hawthorn Fly Heather Fly
24 flies for £15
Saltwater Sea Trout - Key patterns to tempt sea trout feeding in esturies and tidal pools/rivers. - 20 flies for £15
Patterns include: Zero Elver, Whitebait, Zero Muddler, Teal, Blue & Silver, Stoats Tail, Medicine etc.,
North Country Spiders - A selection of Yorkshire and Clyde Style Spiders that will catch fish on any fast river - 30 flies for £15
Patterns include: Partridge & Orange, Snipe & Purple, Waterhen Bloa, Sandfly, Hen Blackie, Blae & Harelug etc.,
Czech Nymphs - Three weights of fly included to ensure well balanced teams can be made. - 25 flies for £15
Patterns include: Tungsten Stonefly, Goldbead Hares Ear, GB Killer Bug, Leaded PInk Larva etc.,
Tactical Wild Trout Flies - Essential patterns for loch and river. Including 'Flies for Rising Trout and 'Flies for when Trout are not rising - 32 flies for £15
Dryflies: Straggler, Long Legged Midges, CDC Caddis. Weighted Flies: GB Damsel, GB Hares Ear, GB Black & Peacock etc.,
The 'Hebridean Cast' - Point on Bob wetflies #12 to make two fly teams to use on any water for Wild Brown Trout - 32 flies for £15
Bob Flies: Black Spider, Spiny Norman, Loch Ordie. Point Flies: Wee Peter, Black Spider, GB Hares Ear etc.,
CLICK HERE TO RETURN TO THE HOMEPAGE