THE SILK ROAD
Gamefishing Fly Rods direct from the Chinese manufacturers.
Functional, practical everyday tackle at great prices.
Quality and value
Specialist gear to use on all waters
Limited stock - available now
Lots of Salmon rivers and lochs in the Highlands & Islands do not need the heavy tackle that the large rivers demand. Nine weight lines and heavy leaders more often than not scare fish rather than catch them. Light line wetfly fishing for all gamefish is more effective when light AFTM 4/5/6 lines are used when fishing small rivers or drifting on the loch. The first two rods offered are perfect for casting small doubles, two fly 'Hebridean Casts' in an effective and pleasurable manner.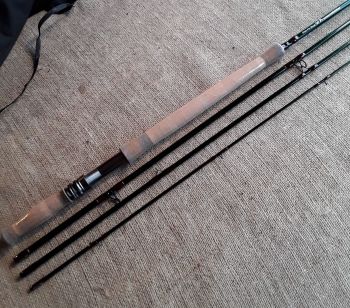 11ft Wetfly Rod AFTM #7 (Salmon)
Use either a weight forward #6/7 line with this rod or if you prefer a DT5. Remember 14 yards of DT5 weighs the same as a WF#7. A double taper line is easier to control and retrieve (figure of eight) but the weight forward profile is easier to cast longer distances. Floating and Intermediate lines are all that you need to work.
Built on a light weight blank and with an extended handle, perfect for light double handed work and playing larger fish.
Snake rings, 4 piece, dot lined joints and a cloth rod bag.
£85 including UK shipping - SOLD OUT

11ft Wetfly Rod AFTM #5 (Trout)
Long rods were once all the rage and for no good reason we seem to have forgot. So if you are casting across the waves on a wild trout loch or dead drifting Spiders on a fast river for trout and grayling give this light line tool a shot. Lighter than you could believe possible for this length of rod. Superbly balance.
This is not a distance casting rod so use either a double taper or Forward taper AFTM#4 floating line. The extra length is also useful for Czech Nymphing methods.
Snake rings, four piece, dot lined joints and for luck a spare tip!
£75 including UK shipping SOLD OUT

9ft Dryfly Rod AFTM #5
Perfect for casting single or two teams of dryflies to wild trout on the loch. A little stiffer than some rods but that helps combat the wind and contriol a drifting line.
Suggest a Double taper AFTM#4 or Weight Forward #5 floating line.
Snake rings, four piece, dot lined joints and cloth bag.
SOLD OUT

9ft Saltwater/Pike Fly Rod AFTM#9
Casting big flies? Searching rock and kelp strewn gullies? This is the rod to use.
Wide snake rings, four pieces, dot lained, robust and saltwater proof reel fitting.
SOLD OUT