Salmon Flies
These flies are tied with loch and small river flyfishing in mind. The lightweight doubles are great for fishing on floating lines and single handed 10/11ft wetfly rods, they are not suitable for sunk line big water work. Smaller heavy wire doubles are included, very useful in fast water, fish on the point with a Muddler on the dropper, the Wee Doubles work in low water summer conditions when larger flies fail.
Most are pretty simple tyings but non the less effective for that!
Single hook flies are listed after the doubles.
Prices range from 75p to £2.25 per fly
If you are after more salmon flies including #12/14 Doubles - click here
The NEW ELVER FLY is a modern variant of the Arthur Ransome Elver fly, tied with modern materials that give the fly 'life' in the water
Try the

HEBRIDEAN CAST

, a

MUDDLER

on the dropper with a small double on the point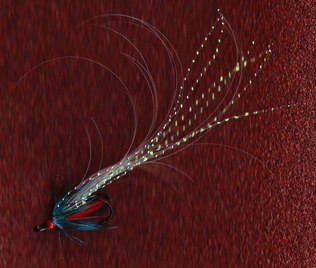 THE NEW ELVER FLY
Tied with a highly mobile synthetic wing, try this on fish that have seen everything else.
The dresssing style of this fly combined with the light wire hook give the fly a lively action in the water.
A big fly is often successful as the light goes.
Low Water Fine Wire Double #8 - £1.50 each
Low Water Fine Wire Double #10 - £1.50 each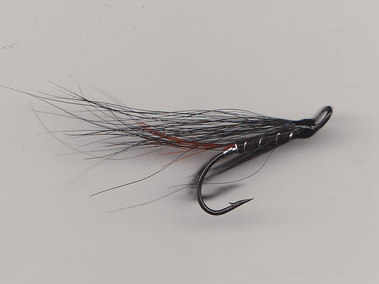 THE STOAT'S TAIL
Ever reliable, standard tying, mainly black with a touch of silver
Stoat's Tail Double #10 - £1.25 each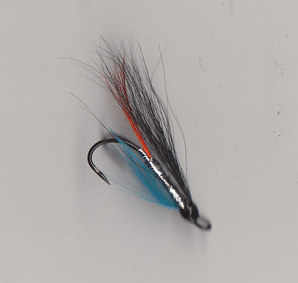 THE SILVER STOAT'S TAIL
Black with a touch of flash, popular sea trout fly in fresh or saltwater.
Silver Stoat's Tail Double #10 - £1.25 each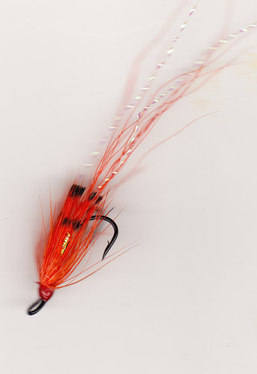 ORANGE SHRIMP
This is a slimline tying of the standard Allys, a far more lively action fly than many overdressed tyings.
Orange Shrimp Double #8 - £1.50 per fly
Orange Shrimp Double #10 - £1.50 per fly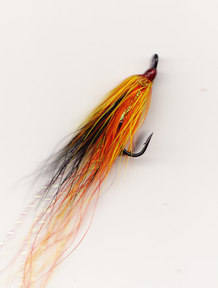 CASCADE DOUBLES
Plenty of colour in this fly, tied with plenty of hackle and hair, especially useful in
Cascade #8 Double £1.50 each
Cascade #10 Double £1.50 each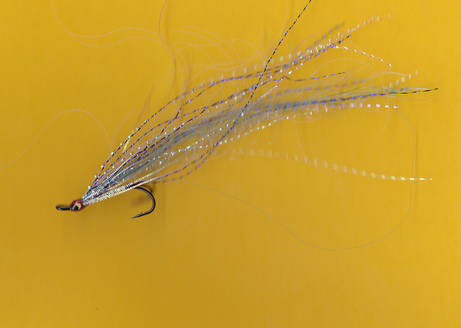 BIG BLUE ELVER DOUBLE #8
Put this down the pool when all else fails. Large loud flies will move fish, even if they do not take them it shows you where the fish are, then go down the pool with something smaller.
Big flies like this are always worth a cast as the light goes at anytime of the year.

Big Blue Elver Double#8 (tied long) - £1.50 each
JUNGLE COCK TYINGS
For added fish appeal and angler confidence you can not beat these!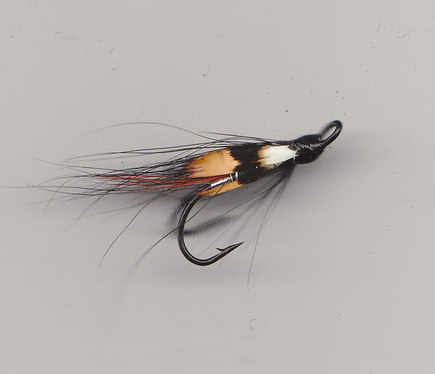 Jungle Cock Stoat's Tail Double #10 - £2.25 each
SINGLE HOOK PATTERNS
How many times have you heard of Salmon and Sea Trout been tempted by small trout sized flies? There are occasions when the larger patterns fail on loch or river, try these.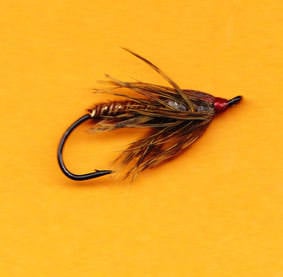 LEADED SALMON NYMPH #8/10
This is a hackled version of the world famous Teeny Nymph. Leaded fish this pattern when conventional across and downstream tactics fail. Fish on a short line and dead drift over salmon lies is the method.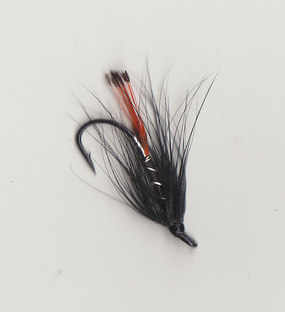 BLACK PENNELL
Just about the best selling wetfly of all time in the Highlands & Islands?
Black Pennell Single #8 - 75p each
Black Pennell Single#10 - 75p each
TOP DROPPER DEER HAIR PATTERNS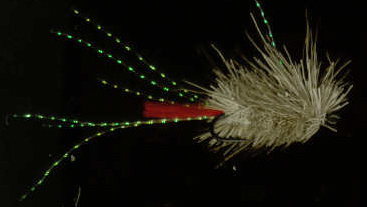 THE SPINY NORMAN
This is a really big fly, fish do take it but it's main purpose in life is to bring fish up, use it in a big wave.
On a large wave tossed loch fish location is often the key to success. Use this on the top dropper with something small on the point, a two fly 'Hebridean Cast'.
Spiny Norman Single #6 - 75p each
Spiny Norman Single#8 - 75p each
Spiny Norman Single#10 - 75p each
SIZE ZERO MUDDLERS
If the fish splash at the Spiny Norman or if you are fishing in light wind conditions try this.
Tied with a small amount of deer hair so the fly sits in the surface film and skates cleanly across the water, a useful feature as this is a handy pattern for evening/night time sea trout. If you want a larger surface lure try a Spiny Norman
Size Zero Muddler Single #6 - 75p each
Size Zero Muddler Single #8 - 75p each
Size Zero Muddler Single #10 - 75p each